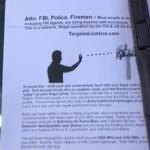 Fentanyl-Laced Flyers Placed on Texas Police Windshields- One Deputy Exposed
su_note note_color="#efe1a7″ text_color="#00000″ radius="5"]Houston, Texas: A sergeant with the Harris County Sheriff Department was treated for exposure to fentanyl from a flyer on her car's windshield. Fentanyl is a synthetic opioid medication that is similar to morphine, but it's about 50 to 100 times more potent, and can be lethal even in small doses, and can be absorbed through the skin.[/su_note]
A Texas Sheriff's deputy was hospitalized after being exposed to an opioid-laced flyer that was found on her patrol vehicle.
"She picked it up and didn't think anything of it, but as she drove to her destination she began feeling a little bit lightheaded and having a few other symptoms," said Harris County Sheriff Ed Gonzalez on Tuesday.
"We're going to take this matter very seriously," he said. "We just wanted to get this information out to the public because we don't know if it's an isolated incident."
An investigation found the flyers had been placed on over 10 vehicles, and one of the fliers tested positive for fentanyl, Gonzalez said.
"I was shocked because this is unprecedented," said Daryl Shorter, an assistant professor of psychiatry at the Baylor College of Medicine.
"Fentanyl is a synthetic opioid medication … used to treat very severe pain, post-operative, post-surgical pain. It's similar to morphine, but it's about 50 to 100 times more potent than morphine."