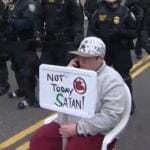 Portland: Federal Police in Riot Gear Kicked Out Protesters Who Shut Down ICE Facility
su_note note_color="#efe1a7″ text_color="#00000″ radius="5"]Federal officers in riot gear reopened the Immigration and Customs Enforcement (ICE) building that protesters shut down 11 days ago. Law enforcement began driving out demonstrators at 5:30 am and detained at least 9 protesters who refused to cooperate. Police did not remove all the protesters, merely those occupying federal property. Most of the protester camp was torn down, and trucks hauled away tents, boards and a couch.[/su_note]
Federal officers in riot gear took federal action Thursday to liberate and reopen an embattled Immigration and Customs Enforcement (ICE) facility in Portland, Oregon.
Authorities "initiated a law enforcement action to reopen the federal facility" on SW Macadam Avenue at approximately 5:30 a.m. Thursday, Federal Protective Service spokesman Robert Sperling told local outlet KGW8 in a prepared statement.
Authorities blocked off the road and began driving out the demonstrators and dismantling their camp, The Oregonian reports.
Protesters tried to form a human chain to block off the building, but they backed down when law enforcement asked them to move.
Police detained at least eight protesters, including several individuals who refused to cooperate, according to another local outlet KATU News, citing a Department of Homeland Security official. Police are not removing all the protesters, merely those occupying federal property.
Authorities hauled away truckloads of tents, boards, and even a couch. Most of the protester camp was torn down. While some protesters heckled officers, there were no reported clashes.
The activists, which are determined to abolish ICE, remain undeterred in their overall mission.
The movement began over a week ago when hundreds of protesters descended on the facility to protest the Trump administration's decision to fully enforce U.S. immigration laws, eventually closing down local ICE operations at that facility.