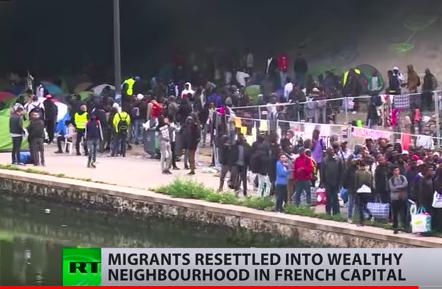 Some residents in a posh neighborhood in Paris have objected to a new migrant settlement built nearby. It is the 34th time in three years that roadside tent communities have been uprooted and moved, but thousands of people continue living in makeshift tents along the canals. More than 500 new asylum seekers arriving in the capital every week.  Oddly, no one mentioned deportation and closing the borders as a solution.
The move came as a surprise for the locals, who said that they now have security concerns. "I think that people here are not very pleased that this people [migrants] are here," one of the 16th arrondissement residents told RT. "They are afraid that some of them must be very difficult… some of them are very-very nice, I'm sure, but a little part of them are, maybe, bad."
Not everybody had grim expectations though, another resident told RT that her life was unaffected after the migrants moved in. "We don't see any changes. We don't communicate with migrants because we don't see them at all in the area," she said.
This view was countered by a local woman, who said that moving migrants to Bois de Boulogne was a mistake because the area around it "is populated by many old people, who aren't really open-minded. So I think that this area isn't the most welcoming."