Leakers: DOJ Arrests Senate Aide and Seizes NY Times Reporter's Phone and Email Records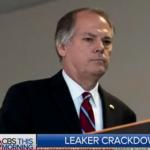 James Wolfe, 57, a former Senate Intel Committee aide, was arrested on Thursday and is accused of making false statements to the FBI and leaking information.  He faces 15 years in prison.  Ali Watkins, reported to be Wolfe's former girlfriend, is a New York Times reporter who had a years' worth of phone and email records seized in relation to the leaks.  Meanwhile, Hillary is still free.
Longtime former director of security for the Senate Intelligence Committee, James A. Wolfe, was indicted and arrested Thursday night on charges of giving false statements to FBI agents in 2017 about repeated contacts with three reporters, according to the Washington Examiner.
Jim Wolfe, a longtime former director of security at the Senate Intelligence Committee, was indicted and arrested Thursday night for giving false statements to F.B.I. agents during their investigation into leaks of classified information to the media.

According to the Department of Justice, Wolfe lied to F.B.I. agents back in 2017 "about his repeated contacts with three reporters, including through his use of encrypted messaging applications."

Wolfe is also accused of making false statements about providing "non-public information related to matters occurring before the [Senate Intelligence Committee]" to two additional reporters. –Washington Examiner
Wolfe, 57, is a former Army intelligence analyst who worked for the Senate for over 30 years. He stopped performing work for the committee in December and retired last month. More from the NYT:
Court documents describe Mr. Wolfe's communications with four reporters, using encrypted messaging applications. It appeared that the F.B.I. was investigating how Ms. Watkins learned that Russian spies in 2013 had tried to recruit Carter Page, a former Trump foreign policy adviser. She published an article for BuzzFeed News on April 3, 2017, about the attempted recruitment of Mr. Page in which he confirmed the contacts.

In another case, the indictment said, Mr. Wolfe used an encrypted messaging app to alert another reporter in October 2017 that he had served Mr. Page with a subpoena to testify before the committee. The reporter, who was not named, published an article disclosing that Mr. Page had been compelled to appear. After it was published, Mr. Wolfe wrote to the journalist to say, "Good job!" and, "I'm glad you got the scoop," according to court papers.

The same month, Mr. Wolfe reached out to a third reporter on the same unidentified app to offer to serve as an unnamed source, the documents said.

Mr. Wolfe also communicated with a fourth reporter, using his Senate email account, from 2015 to 2017, prosecutors said. They said he denied those contacts.
"Mr. Wolfe's alleged conduct is a betrayal of the extraordinary public trust that had been placed in him. It is hoped that these charges will be a warning to those who might lie to law enforcement to the detriment of the United States," said Assistant Attorney General John. Demers