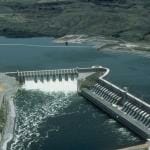 Leftist Environmentalists Are Protesting a Clean Power Project

Environmentalists in New England are opposed to a proposal that would provide an abundance of clean hydropower, hundreds of jobs, and millions of dollars in annual revenue. The energy project would use hydro-electric power from a series of dams in Canada and delivered via cables through Maine to Massachusetts. The objections range from the impact the cables might have on forests to the fact that the plan would not reduce global emissions of CO2. -GEG
Environmentalists in New England are voicing concern over a proposal that would provide an abundance of clean hydropower, hundreds of jobs and millions of dollars in revenue every year.
Charlie Baker, the moderate Republican governor of Massachusetts, has worked relentlessly to reduce his state's carbon footprint and is now looking to Canada for renewable energy sourced from a series of dams. The environmentally-friendly governor is in negotiations to obtain a large swath of electricity from Hydro-Québec, a province-owned energy company that generates all of its electricity from its colossal system of 63 hydroelectric power stations.
If completed, the arrangement would power 1.2 million homes with 1,200 megawatts of low emission hydropower and reduce overall energy costs. Additionally, it would generate an estimated $18 million in annual property tax revenue and create 1,700 new jobs during its construction phase.
Central Maine Power — a company that provides power to central and southern Maine — has offered to build the transmission line needed to transport the power. In addition to the jobs and tax revenue the transmission line will provide, the company is doubling down on its commitment to the local community by vowing to spend $50 million over 40 years on programs to assist low-income communities. Central Maine Power will also reroute the Appalachian Trail in order to be less intrusive to wildlife.
Environmentalists, however, are still
questioning
the project.
To get Hydro-Quebec's electricity to Massachusetts, Central Maine Power will need to construct a 150-wide path through New England and need 1,000 support structures. Some conservationists are opposing any sort of development in the region's forests and surmising that the project will not even reduce carbon emissions.
A local resident opposed to the project compared the lure of added tax revenue to a bribe. "It's hard to blame them," Kevin Ross said to the Boston Globe in a report published April 23. Ross was speaking of his neighbors who wish to see more economic development in their small Maine town of The Forks. "It's like a school bully coming up to you and saying, 'I'll give you $10 if I can punch you in the face.'"