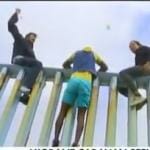 Migrants from the Central American Caravan Were Filmed Scaling US Border Fences
Migrants from the Central American caravan have illegally entered the US by climbing over the dilapidated scrap metal border fence in Tijuana. Ironically, some sat atop the fence taunting US officials while waving flags from Honduras, the country they are fleeing. Five busloads of migrants were escorted Sunday through Tijuana to a cross-border rally near San Diego, where supporters gathered on both sides of the fence. -GEG
The caravan of migrants from Central America seeking asylum in the U.S. has arrived at the border, and some people associated with the group have already been caught scaling the border fences.
"Several groups of people associated with the Central American caravan" illegally entered the U.S. "by climbing over the dilapidated scrap metal border fence on either side of the San Ysidro Port of Entry," Rodney S. Scott, chief of the Border Patrol in the San Diego sector, which sits just north of Tijuana, told reporters Saturday.
He said the migrants included "children as young as 4 years old and in one case a pregnant female." He called it "unconscionable that anyone would expose a child to these dangerous conditions."
Five busloads of migrants were escorted Sunday through Tijuana to a cross-border rally near San Diego, where supporters gathered on both sides of the fence, The Associated Press reports. Images from the rally show apparent migrants from the Mexican side sitting atop the border wall proudly waving what appears to be the Honduran flag, the banner of the country from which many of the migrants are trying to flee.