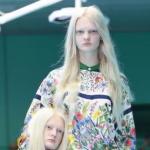 Severed Heads Have Become Trendy among Engineers of Western Culture
Gucci uses severed heads as an accessory in a fashion show in Milan, Obama's portrait painter creates large paintings of black women holding severed heads of white women, a Hollywood comedian photographs herself holding what appears to be the severed head of the President, celebrities attend parties displaying heads on dinner plates, and Disney creates cartoons with headless creatures and heads without bodies. [It's time for the rest of us to push back, don't you think?
Let's get organized at Red Pill University
.] -GEG.