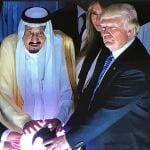 Trump Negotiating $80 Billion Deal for Saudi Arabia to Acquire Nuclear Power
President Trump is considering a deal with Saudi Arabia allowing Westinghouse Electric, a financially strapped nuclear energy company, to build 16 nuke plants over the next 20 years, at a cost of more than $80 billion. The deal would also permit Saudi Arabia to enrich and reprocess uranium, which can be used for nuclear weapons. Congress must approve any agreement that is forged, and lawmakers will have three months to weigh in on the deal. [What in the world is Trump thinking?]
The Trump administration is considering forging a deal with Saudi Arabia allowing a financially strapped nuclear energy company to build plants in the Middle Eastern country.
Energy Department Chief Rick Perry will travel to London Friday to discuss with Saudi Arabian officials the prospect of building reactors in the kingdom, according to Tuesday Bloomberg report. The deal would also permit Saudi Arabia to enrich and reprocess uranium.
Some U.S. agreements prohibit the enrichment and reprocessing of uranium in exchange for the use of nuclear technology. Similar prohibitions scuttled nuclear deals during former President Barack Obama's administration.
That was then; This is now. President Donald Trump's administration, which has committed itself to protecting the coal and nuclear energy industries, wants to loosen those rules to help Westinghouse Electric and other companies win Saudi contracts.
Saudi officials plan to construct 16 nuclear power reactors over the next 20 years at a cost of more than $80 billion, according to the World Nuclear Association, a group that analyzes nuclear energy trade.