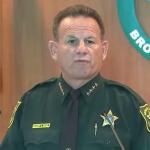 Broward Sheriff Reported Bodies Still in School Building Day After Shooting
According to the Miami Herald dated Thursday, February 15, the day after the school shooting, Sheriff Scott Israel reported that some of the victims' bodies were still in the school's facilities. He said, "Right now the focus of the FBI and the Broward Sheriff's Office is on the successful prosecution of this killer and we are not going to leave any stone unturned."
The bodies of some victims of Wednesday's shooting at a Broward high school still remain inside the school's facilities, Broward County Sheriff Scott Israel said Thursday.
"There are some bodies that are still in the school," Israel said at a press conference held near Marjory Stoneman Douglas High School in Parkland. "It is a process."
The case is being investigated by the FBI, the state police (FDLE) and Broward officers.
"Right now the focus of the FBI and the Broward Sheriff's Office is on the successful prosecution of this killer and we are not going to leave any stone unturned," Israel said. "We are trying to process this as quickly as we can."
Read more here: http://www.miamiherald.com/news/local/community/broward/article200300314.html#storylink=cpy