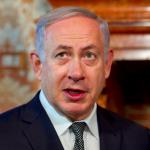 Israeli Police Recommend Netanyahu Be Indicted for Bribery
After a 14-month investigation, Israeli police have reportedly recommended that Prime Minister Benjamin Netanyahu be indicted on charges of bribery and breach of trust. The first charge includes accusations of accepting expensive gifts, and the second charge is that he made a deal for favorable coverage by a major newspaper in exchange for supporting a bill that would weaken that newspaper's competitor. Netanyahu responded by saying the police recommendations have no place in democracy. [It may surprise you to know that he is right, but it depends on your understanding of the word democracy. In today's world, democracy has come to mean elections in which the winners get everything, mob rule through the ballot box with no room for laws that protect the individual against the greed or passion of the majority. That's the foundation of collectivism. In such a society, police recommendation have no place, because the police and everyone else are supposed to serve and obey the ruling party and the party's top spokesman. For a deeper understanding of this concept, see 
The Chasm,
 starting at page 14.] -GEG
Update: Bibi has responded, and – well – you see he was only stealing because it was in the country's interest:
NETANYAHU SAYS HIS ONLY MOTIVE IS TO ADVANCE NATIONAL INTERESTS
It gets better:
NETANYAHU: POLICE RECOMMENDATIONS HAVE NO PLACE IN DEMOCRACY
And then, denial, with the usual diversion that any attack on Netanyahu is an attack on Israel itself:
NETANYAHU SAYS `TODAY IS NO DIFFERENT FROM ANY DAY'
NETANYAHU SAYS INVESTIGATIONS AIM TO TOPPLE HIS GOVERNMENT
NETANYAHU: POLICE RECOMMENDATIONS HAVE NO PLACE IN DEMOCRACY
Spoken just like any corrupt politicians
* * *
After a 14-month-long investigation, Israeli police have reportedly recommended that Prime Minister Benjamin Netanyahu be indicted on charges of bribery and breach of trust.
As The Jerusalem Post reports, police say they have found enough evidence to recommend the state's prosecution to indict Netanyahu in Case 1000, the "gifts affair" and Case 2000, the "Yediot Aharanot Affair."
In Case 1000, the "gifts affair," it is alleged that Netanyahu improperly accepted expensive gifts from different businessmen.

In Case 2000, the "Yediot Aharonot affair," Netanyahu allegedly negotiated with publisher Arnon "Noni" Mozes for favorable coverage of himself in Yediot Aharonot in exchange for support of a bill to weaken Israel Hayom, the largest circulation Hebrew-language paper and Yediot's biggest competitor.

At this stage, the prosecution and Attorney-General Avichai Mandelblit will examine the evidence that police collected throughout the investigations, and will later decide whether to actually indict the prime minister or not.

Netanyahu will not be required at this point to resign from office. The law says that only after a peremptory Supreme Court verdict (meaning after an appeal was submitted and rejected), the prime minister must resign from office.