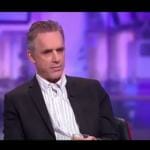 Free Speech Debate Leaves TV Host Speechless
Canadian professor of psychology, Dr. Jordan Peterson, while being interviewed about his defense of free speech, is asked by a TV host: "Why should your right to freedom of speech trump a trans person's right not to be offended?" He responded: "Because in order to be able to think, you have to risk being offensive. Look at the conversation we're having right now. You're certainly willing to risk offending me in the pursuit of truth. Why should you have the right to do that?" The TV host was left with no response. -GEG
A clip in which Professor Jordan B. Peterson explains why his free speech is more important than the risk of a transgender person being offended is going viral.
Peterson was previously embroiled in a controversy as a result of his refusal to comply with Canada's draconian Bill C-16, which makes it a hate crime to not use someone's preferred gender pronouns.
The video features Peterson, who is currently doing a series of lectures in London, being interviewed by far-left UK broadcaster Channel 4.
Host Cathy Newman asks the professor, "Why should your right to freedom of speech trump a trans person's right not to be offended?"
First of all, the idea that someone has a right to not be offended is hilarious. No such right exists.
Peterson's comeback is brutal.
"Because in order to be able to think, you have to risk being offensive – I mean look at the conversation we're having right now – you're certainly willing to risk offending me in the pursuit of truth – why should you have the right to do that?"