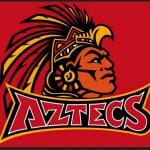 American Indian Professor Suspended After Discriminating Against White Student
San Diego State University suspended American-Indian lecturer, Oscar Monge, from teaching after he threatened to lower a white student's grade when she expressed support for the school's Aztec mascot.  Monge said the student's braided hair represented cultural appropriation over Facebook, and called her racist for wearing a t-shirt portraying the mascot. He also said it is easy to argue that whiteness is evil. [Have you noticed that almost all of those seeking to stir up violence and hatred between races in America are employed by American universities as professors or teachers? You do not have to be a rocket scientist to see that something is very rotten in the public-supported educational system.] -GEG
A school pulled an American Indian professor who discriminated against a white student from the classroom, according to a Monday report.
San Diego State University suspended American Indian lecturer Oscar "Ozzie" Monge from teaching three American Indian writing rhetoric sections after he threatened to lower white student Crystal Sudano's grade when she expressed support for the school's Aztec mascot, reported The College Fix.
Monge "is not teaching any classes this spring semester," SDSU spokeswoman Jill Esterbrooks told The Fix. The California Department of Justice had previously found Monge guilty of racial discrimination, racial harassment and racial retaliation.
The American Indian lecturer is a vocal advocate for trashing SDSU's Aztec mascot, which he said represents cultural appropriation. Monge said Sudano's braided hair represented cultural appropriation over Facebook, and called the student racist for wearing a t-shirt portraying the mascot. (RELATED: American Indian Prof Threatened White Student Over Support Of Aztec Mascot)
 "The AS (Associated Students) is something else that confuses me…the way it's structured, the way it runs and how damned white it is," Monge told the student, critiquing the organization that had voted to keep the mascot.
The lecturer also critiqued Sudano's use of the phrase "totem pole" when the white student said everyone's opinions should be heard "no matter how low on the totem pole you are." Monge's behavior caused Sudano to withdraw from his class, according to the California Department of Justice (DOJ).