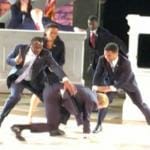 Chicago Man Files PAC Called 'I Am Going to Assassinate Donald Trump'
Chicago: An individual named Freddy Black filed the paperwork with the Federal Election Commission to create a new political action committee titled, "I AM GOING TO ASSASSINATE PRESIDENT DONALD J TRUMP."  He is seeking donations to assassinate the president and KKK members
within 24 hours
. It is unclear if Freddy Black is the actual name or a pseudonym of the individual behind the PAC. The address that Black provides in his filing leads to an apartment complex on the south side of Chicago. [We do not expect the PAC to be approved, but the fact that someone believes that this publicity stunt will not result in criminal prosecution is a sad sign of the times.] -GEG
A Chicago resident on Wednesday filed paperwork with the Federal Election Commission to create a new political action committee whose name threatens to assassinate President Donald Trump.
The PAC is titled, "I AM GOING TO ASSASSINATE PRESIDENT DONALD J TRUMP." (The name is registered in all capital letters.)
An individual named Freddy Black filed the paperwork and wrote, "Send donations to reward my assassination of Donald J Trump to: Freddy Black, 3001 S King Drive Apt 1118, Chicago IL 60616. Or to my IDOC Parole Agent Mr. Done Let"s get him assassinated in the next 24 hours!! Then I"ll kill all the KKK motherfuckers too [sic]."
It is unclear if Freddy Black is the actual name or a pseudonym of the individual behind the PAC. The address that Black provides in his filing leads to an apartment complex on the south side of Chicago.
In the filing, Black is also listed as the PAC's treasurer. "Hacker" and "assassin" are his listed titles.
The Washington Free Beacon reached out to the Secret Service for comment on the new PAC.