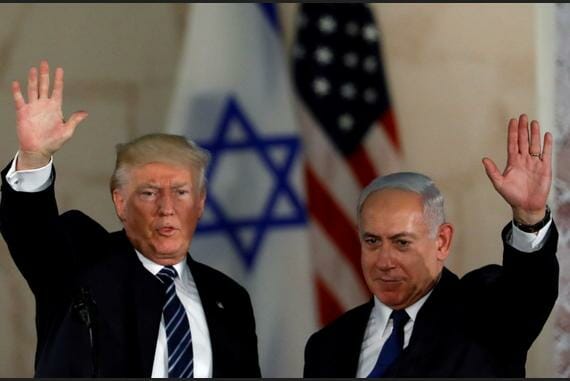 President Trump and Israeli Prime Minister Netanyahu signed a joint document that includes using covert action to block Iran's path to nuclear weapons and countering Iranian support for Syria and Hezbollah. It also includes an agreement to prepare for war-escalation scenarios in Iran, Syria, Hezbollah in Lebanon, and Hamas in Gaza. -GEG
The United States and Israel have reached an agreement to implement President Donald Trump's policy to counter the threat posed by Iran, including its nuclear ambitions, its regional expansion, and its role in international terror.
Barack Ravid of Israel's Channel 10, writing at Axios on Thursday, reported that the U.S. and Israel met secretly at the White House on December 12 (the day the American media were focused on the Alabama special election.) In a "joint document" based on President Trump's speech on Iran in October, the two delegations, represented by their respective national security advisers (including H.R. McMaster from the American side), outlined shared goals:
1. Covert and diplomatic action to block Iran's path to nuclear weapons – according to the U.S. official this working group will deal with diplomatic steps that can be taken as part of the Iran nuclear deal to further monitor and verify that Iran is not violating the deal. It also includes diplomatic steps outside of the nuclear deal to put more pressure on Iran. The working group will deal with possible covert steps against the Iranian nuclear program.

2. Countering Iranian activity in the region, especially the Iranian entrenchment efforts in Syria and the Iranian support for Hezbollah and other terror groups. This working group will also deal with drafting U.S.-Israeli policy regarding the "day after" in the Syrian civil war.

3. Countering Iranian ballistic missiles development and the Iranian "precision project" aimed at manufacturing precision guided missiles in Syria and Lebanon for Hezbollah to be used against Israel in a future war.

4. Joint U.S.-Israeli preparation for different escalation scenarios in the region concerning Iran, Syria, Hezbollah in Lebanon and Hamas in Gaza.
The agreement to counter Iran in Syria is particularly significant, as Israeli leaders had been concerned that Trump's rapprochement with Russia in the region could leave Iranian gains in Syria intact.