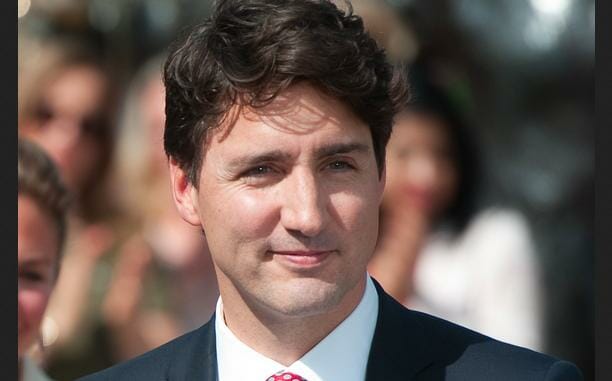 Canadian Prime Minister Justin Trudeau proposes to re-integrate ISIS terrorists into Canadian communities. He says they will be monitored and helped so they can let go of their terrorist ideology. 'Project Someone', a de-radicalization program that receives hundreds of thousands of dollars in federal funding, builds counter-narratives against terrorism through art and poetry. [To the skeptical mind, this sounds like a flimsy ploy to use taxpayer funds to pay for the support of terrorism in Canada. Why would anyone want to do that? Because some people in high places actually want terrorism so there will be a plausible excuse to enact laws against liberty and to declare martial law. Martial law is the ultimate excuse for totalitarianism.] -GEG
Canadian Prime Minister Justin Trudeau argued in an interview to air next week that a reformed Islamic State (ISIS/ISIL/IS) terrorist can evolve into "an extraordinarily powerful voice for preventing radicalization," an endorsement of programs he has promoted to reintegrate veteran jihadists into Canadian society.
The end-of-year interview with CTV will air in full on December 29, but the outlet published snippets of Trudeau's responses to a variety of questions on Friday. Asked about the potential to rehabilitate Canadian citizens who traveled to Syria and Iraq to join the Islamic State, the prime minister said, "There's a range of experiences when people come home."
"We know that actually someone who has engaged and turned away from that hateful ideology can be an extraordinarily powerful voice for preventing radicalization in future generations and younger people within the community," he argued.
CTV notes that, in promoting rehabilitation for these individuals, Trudeau is contradicting Public Safety Minister Ralph Goodale, who recently expressed pessimism at reforming jihadist individuals with battleground experience.
"If you want to have a good solid hope of some kind of successful intervention, it has to be at a much earlier stage. You have to prevent the problem before it exists," Goodale told CTV. "Once a person has been in a war zone, once they've been actively engaged in terrorist-related activities, the capacity to turn them around is pretty remote."
Trudeau's remarks have triggered outrage among conservatives in Canadian media. Analyst Ezra Levant, for example, notes that the individuals targeted by these reform programs have already committed crimes by virtue of traveling to join ISIS: "Our criminal code has provisions against terrorism, and specifically, provisions about even travelling to join a terrorist group, even if you don't shoot a bullet or rape anyone."
"But Trudeau is just fine with them coming back and saying, 'My bad, I'm cool now, pass me the welfare,'" he argues.
Toronto Sun columnist Candice Malcolm protests that Trudeau's plan "borders on the absurdity," asking, "Why on earth would Canadian taxpayers seek to help members of a jihadist army that committed genocide, burned Christians alive, beheaded American journalists and aid workers, sold women into sex slavery and threw gay men off rooftops?"
"These aren't recovering alcoholics or teenagers on the verge of online radicalization. They aren't people who have served their time, taken responsibility for their actions and are ready to start anew," she notes.
This is not the first time Trudeau proposes reintegrating Islamic State terrorists into Canadian society. "We recognize the return of even one individual (who joined the IS group) may have serious national security implications," Trudeau acknowledged in November. "We are going to monitor them. We are also there to help them to let go of that terrorist ideology."