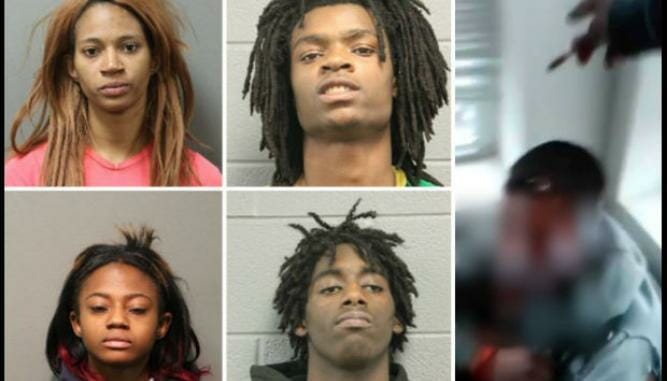 Chicago: Four black young adults tortured a disabled white teenager, who was beaten, stabbed
and degraded for two days
, and they uploaded a video of their crime
to Facebook. Brittany Covington, 19, pleaded guilty to a hate crime, aggravated battery
and intimidation, yet Judge William Hooks, a black Muslim judge, released her without jail time. Three more torturers, Jordan Hill, Tesfaye Cooper and 24-year-old Tanishia Covington await trial. -GEG​
A 19 year old Chicago woman who live-streamed the racially charged kidnapping, torture and mutilation of a mentaly disabled teen was given 200 hours of community service and four years of probation on Friday.
Brittany Herring Covington – who went by "Herring" on Social Media before her arreest, and "Covington" in recent reports, avoided a possible 33 years in prison on multiple counts, including a hate crime, aggravated battery and aggravated kidnapping – a charge which was dropped along with several others as part of a plea agreement.
Hooks warned Covington that should she violate the terms of her probation – which includes a ban from social media for four years, she would face prison time. As part of the plea deal, prosecutors agreed to drop additional charges including kidnapping.
Judge William Hooks, Cook County IL
"Do not mess this up," Judge Hooks said to Covington, who stood in front of him in a blue jumpsuit. Hooks is notably the first African-American president of Chicago's Federal Bar Association, a past president of the Cook County Bar Association, and a member of the Muslim Bar Association of Chicago.
Tanisha Covington, Tesfaye Cooper, Brittany Herring Covington, Jordan Hill and victim
"Fuck Donald Trump, Fuck white people"

"There's gonna be a murder. Pop pop pop"

"We gonna put this bitch in the trunk, put a brick on the gas, like aaaaaaaaah"

"Pistol whip his ass, fool"
After nearly 48 hours, the kidnapped teen escaped after the kidnappers left the apartment to confront a neighbor who had called 911 to complain about the noise coming out of their apartment where the torture was taking place.