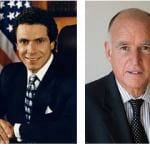 Liberal Governors of California and New York Pardon Illegal Aliens to Stop Deportation
After Democrat California Governor Jerry Brown pardoned two illegal aliens who had committed felonies and were set to be deported, New York Governor Andrew Cuomo mimicked the action and pardoned 18 convicted illegal immigrants who were facing deportation. In both cases, this action stopped deportation. -GEG
New York Governor Andrew Cuomo mimicked California Gov. Jerry Brown's approach to immigration Thursday, pardoning 18 convicted illegal immigrants who were facing deportation.
Cuomo, a Democrat, praised himself on Twitter for his compassion, before linking to a New York Times article supporting the move. Cuomo claimed the federal government is "tear[ing] families apart" with the current immigration policy and felt he was taking the "critical step" to defend those who were unfairly targeted.
While the federal government continues to target immigrants and threatens to tear families apart with deportation, these actions take a critical step toward a more just, more fair and more compassionate New York. https://t.co/QK1lzhMgfg

— Andrew Cuomo (@NYGovCuomo) December 28, 2017
Brown, also a Democrat, has also taken up the cause of defying federal immigration law in California, by pardoning two men from Cambodia who were about to be deported. One of the men was convicted of felony joyriding in 2003 and sentenced to a year in prison, while the other was convicted of a felony weapons charge in 1995, Fox News reports.