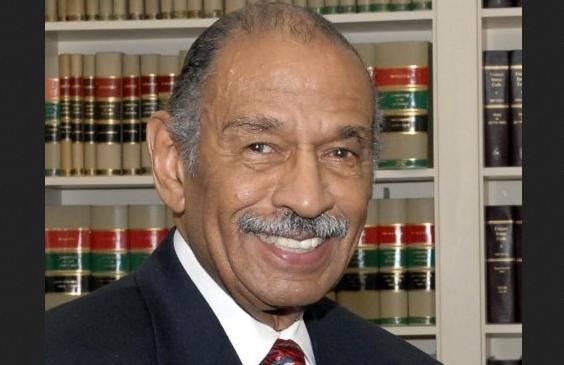 US House Representative, John Conyers, is 88 years old, and is a top Democrat on the House Judiciary Committee.  He is the longest serving member of the House, having begun his career in 1965.  Conyers admits settling a sexual harassment case by a former staffer who says he sexually harassed her and then fired her for rejecting his advances.  He denies the allegations, but the woman was paid more than $27,000 from taxpayer funds.  Other staffers attest to his harassment of women and rewarding them with raises in salary for acquiescence.  The settlement was processed through payroll, as if she were a 'temporary employee' to cover up the use of taxpayer funds for this purpose.  In March of 2010, Conyers' wife, Detroit City Council President Monica Conyers, was sentenced to 37 months in prison for bribery. -GEG
A leading Democratic congressman settled a wrongful dismissal complaint for more than $27,000 in taxpayer funding after he allegedly fired the staffer because she would not "succumb to [his] sexual advances," according to a new report.
The congressman, Michigan Rep. John Conyers, is described as a serial sexual harasser who would prey on his female staffers in sworn affidavits signed by four of his former staffers. BuzzFeed News first reported the bombshell allegations and accompanying settlement after right-wing blogger Mike Cernovich provided the website with the documents.
One former female employee filed a complaint with the Congressional Office Of Compliance in 2014, alleging that she was fired for rebuffing Conyers' sexual advances. It was that employee who eventually received a $27,111.75 settlement in 2015, in exchange for a confidentiality agreement. The congressman did not admit to fault as part of the settlement agreement.
"In her complaint, the former employee said Conyers repeatedly asked her for sexual favors and often asked her to join him in a hotel room. On one occasion, she alleges that Conyers asked her to work out of his room for the evening, but when she arrived the congressman started talking about his sexual desires," BuzzFeed reported. "She alleged he then told her she needed to 'touch it,' in reference to his penis, or find him a woman who would meet his sexual demands."
Conyers regularly made sexual advances on female staffers and would ask them for sexual favors, according to the affidavits signed by his former staffers. "Rep. Conyers strongly postulated that the performing of personal service or favors would be looked upon favorably and lead to salary increases or promotions," one former employee said in an affidavit.