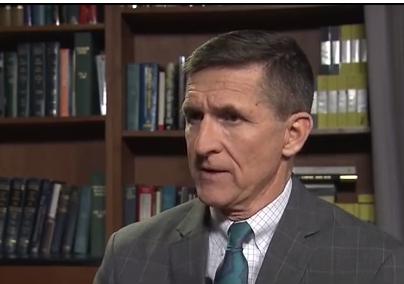 Special Counsel Robert Mueller now is investigating the activities of former National Security Advisor, Michael Flynn, hoping to find something that will reflect badly on President Trump. The latest inquiry is into the fact that Flynn was hired by the Turkish government to gather information on an Islamic group in the US, led by Fethullah Gulen, suspected as a front for terrorist operations.  Such an investigation was perfectly legal and in the best interest of the United States. [The catch, however, is that, when Mueller was head of the FBI, he closed down the FBI's own investigation of Gulen and quashed the testimony of an FBI whistleblower who tried to bring these facts to light.  It is possible that Mueller's investigation of Flynn's role in this must, inevitably, lead to public exposure of Mueller's role, also. That, of course, would depend on the media's willingness to fairly publicize it.  We shall see.]
General Michael Flynn, Former National Security Advisor to President Trump, is being investigated by Special Counsel for accepting legitimate payments from Turkish companies for researching and exposing Wanted Terrorist and Radical Islamist Fethullah Gulen and his $25+ Billion criminal network in the United States.
Former FBI Director Robert Mueller is Special Counsel in charge of the case. He is the same Robert Mueller who used his position as Director of the FBI to shield and cover up Gulen's criminal-terrorist network and operations, and take drastic measures to quash a whistleblower's Gulen-related reports. These previous connections and actions by Mr. Mueller create a direct conflict of interest with his current position as Special Counsel in Flynn's case, and require that he must immediately step down from the case.
In May 2017 the Justice Department appointed Robert S. Mueller III, a former F.B.I. director, as special counsel to oversee the investigation into ties between President Trump's campaign and Russian officials.
Not long after being appointed Mr. Mueller began targeting former national security adviser Lieutenant General Michael T. Flynn, expanded the investigation beyond the Russia-Gate probe, and began a furious pursuit of Mr. Flynn's Turkish connections and his vocal stand on the wanted radical Islamic Cleric Fethullah Gulen.
Mr. Mueller's inquiries went from Russia-connections to Flynn's outing of Gulen's twenty five-billion-dollar sleeper terror cell in the United States. Not finding any substantial evidence against Flynn within the Russia-Gate scope, the Special Counsel team switched gears and started a Turkey-Gate. During the past several months Mr. Mueller's prosecutors have used multiple grand juries to issue subpoenas for documents related to Mr. Flynn. All this despite President Trump's demand that:
Mr. Mueller should confine his investigation to the narrow issue of Russia's attempts to disrupt last year's presidential campaign, not conduct an expansive inquiry into the finances of Mr. Trump or his associates.
Mr. Mueller's prosecution team and F.B.I. agents have spent hours going over the details of Mr. Flynn's perfectly legitimate business dealings with a Turkish-American businessman who worked with Mr. Flynn's consulting business, the Flynn Intel Group. Why? Because the business arrangements included research for and exposure of the world's largest radical Islamist network, operating in the United States for over two decades- the Gulen Network.
The targeting of Mr. Flynn through consolidated Obama Whitehouse leaks and one-sided media attacks began six months prior to the Special Counsel appointment. It started with an editorial penned by Mr. Flynn on November 8, 2016, when he became the first public official to unabashedly expose the radical cleric long protected by multiple government agencies- the CIA, State Department and FBI, starting under President Bill Clinton's administration:
The primary bone of contention between the U.S. and Turkey is Fethullah Gülen, a shady Islamic mullah residing in Pennsylvania whom former President Clinton once called his "friend" in a well circulated video.

Gülen portrays himself as a moderate, but he is in fact a radical Islamist. He has publicly boasted about his "soldiers" waiting for his orders to do whatever he directs them to do. If he were in reality a moderate, he would not be in exile, nor would he excite the animus of Recep Tayyip Erdoğan and his government.

…

To professionals in the intelligence community, the stamp of terror is all over Mullah Gülen's statements in the tradition of Qutb and al Bana. Gülen's vast global network has all the right markings to fit the description of a dangerous sleeper terror network. From Turkey's point of view, Washington is harboring Turkey's Osama bin Laden.

…

However, funding seems to be no problem for Gülen's network. Hired attorneys work to keep the lucrative government source of income for Gülen and his network going. Influential charities such as Cosmos Foundation continue their support for Gulen's charter schools. Incidentally, Cosmos Foundation is a major donor to Clinton Foundation. No wonder Bill Clinton calls Mullah Gülen "his friend."
By writing and publishing this strong commentary Lt. General Flynn not only took on the enormously powerful Gulen's terrorist network, but also the wrath of the CIA and the FBI, the Intelligence and law enforcement agencies tasked with bringing Gulen into the United States in 1998, his grooming, and his ongoing protection for over two decades.