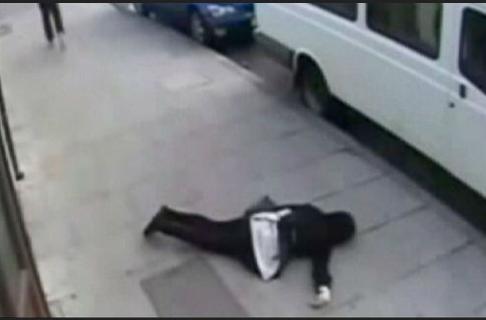 Colin Flaherty defines the 'knockout game' as "someone beating the hell out of someone else just for the hell of it."  It has never gone away, he says, although the media downplay it.  Most of these attacks are driven by racial hostility directed by blacks against whites.  [It is uncomfortable for us to carry this story because of the possibility of being falsely accused of being racist.  Yet, these things really are happening and to ignore them to be politically correct is not honest journalism.  We welcome reader opinion on this.]  -GEG
The "knockout game" is back.
In fact, it never really went away.
It's when mostly black youth randomly attack pedestrians and knock them unconscious, and it is once again raising fears around the country. In Pittsburgh recently, a woman was brutally assaulted and knocked unconscious. No passerby stopped to help the woman; indeed, some stopped to take "selfies." The victim was left to lie on the ground until she regained consciousness.
ICYMI: HORRIFIC: A #Pittsburgh woman knocked out cold on a busy sidewalk. Instead of getting help, groups of men come by and take videos of her, rob her, even take selfies. Meanwhile NOBODY CALLED 911. KDKA-TV EXCLUSIVE: https://t.co/kQSQqrO7Vu pic.twitter.com/w9F21IAwyW

— KDKA (@CBSPittsburgh) October 27, 2017
A similar attack occurred soon afterward in New York City, when a 43-year-old man was sucker punched by a teen attacker outside a Shake Shack. The teen reportedly took a selfie with the victim afterward.
The attack was reportedly planned, according to witnesses, as a group threw water and milkshakes at the victim before the attacker delivered the knockout punch. Police also reportedly said the attack was part of a "contest" among a group of teens.
Three black men are also being sought in a "knockout game" assault on a 53-year-old woman in late September.
One of the men reportedly exclaimed, "I'm gonna do it" before hitting the woman, causing swelling and bleeding. A wanted poster with pictures of the three suspects has been distributed by the police, but no arrests have been reported.
Colin Flaherty, the independent reporter who helped expose the "knockout game" through his online videos and his book "White Girl Bleed A Lot," says it is interesting how the mainstream media no longer denies the existence of this "game."
"Contrary to what some reporters wish, the 'knockout game' is not some organized activity like cribbage," Flaherty told WND. "There are no rules about saying a certain thing or doing a certain thing.
"When I first started reporting on the knockout game for WND a few years ago, every story about the 'knockout game' would carry a reminder that most people thought the game was a myth, a lie, concocted by yours truly for my own nefarious reasons. But what is interesting about the coverage of the recent episodes of this mostly black-on-white violence in the New York and Pittsburgh areas is that these ritual announcements that used to accompany these articles are gone."