Beverly Nelson accused Judge Roy Moore, the Republican candidate for the senate race in Alabama, of sexually assaulting her in 1977, but there are many inconsistencies in her story.  Attorney, Gloria Allred, is representing Nelson, and her handling of the case is making it clear that the purpose of the lawsuit is, not to prove the claim in court, but to generate publicity against Moore just prior to the election.  The establishment is terrified of a candidate who can win an election on principles, instead of money. -GEG
Roy Moore, the Republican candidate for the US Senate seat in Alabama was accused by Beverly Nelson, four weeks before the election, of sexual assault.  Democrats and the Republican National Committee have called for him to step down as a candidate.
Beverly Nelson is represented by Gloria Allred, who used this same​ 'swiftboat' tactic ​against Trump last year in a bogus sexual assault case.  Swiftboat refers to the tactic of making outrageous claims against a candidate just prior to elections knowing full well that the claims are false and that, after the election, the case will be dropped, perhaps even with an apology but, by then, damage to the candidate is done.
Claims made by Allred's client, Beverly Nelson, against Roy Moore are falling apart at the seams.  She said he trapped her in his car and locked her door, but childproof locks had not yet​ been invented in 1977.  Roy Moore was the judge in Nelson's 1999 divorce case, yet her alleged rape attempt was not an issue at that time.  Beverly's stepson, Darrel Nelson, made a video calling his stepmother a liar.  Attorney, Gloria Allred, has political ties to Democrat Hillary Clinton and was a delegate for her at the Democratic Convention.
Beverly Nelson presented an old high-school yearbook as proof ​that ​she had a relationship with Moore, claiming that he signed it, but there are two distinct writing styles in the message, as well as other inconsistencies.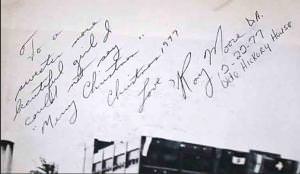 Judge Roy Moore is a threat to the Republican establishment because he is willing to stand up for his convictions.  If Moore wins, it means that a candidate can win on principles, instead of buying elections. Remember that Moore's opponent in the Republican primary, Luther Strange, was defeated despite spending as much as $30 million.  A win for Moore will bolster Steve Bannon's power to throw out establishment RINOs from the Republican party. That's really what is at issue here.
https://www.youtube.com/watch?v=rTGOrilz80U