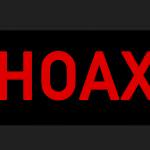 Another Hoax: Black Student Wrote Racist Messages at Air Force Academy
A black cadet at the Air Force Academy was discharged after it was learned that he pretended to be a victim of racial slurs but actually had written them himself. The Academy did not identify the student. -GEG
This all getting too repetitive at this point. Once again a high profile "hate crime" involving racist graffiti swept the nation a little over a month ago, creating tremendous excitement in the mainstream media. We're referring to the horrible incident at the Air Force Academy Preparatory School, where five black cadet candidates found racist messages sprayed on message boards outside their dormitory rooms. That kicked off a lengthy investigation and warnings from the school's administration about the need for diversity and all the usual messaging. This served as additional fodder for the SJW crowd, providing proof of what a horrible, racist nation America has become under Trump.
See Also: WSJ: DoJ wants plea deal from Manafort's former son-in-law
Now, at long last, the mystery has been solved and the hateful racist is being identified. Unfortunately, the perpetrator turned out to be one of the black cadets who was "targeted." (Washington Post)
But on Tuesday, the school made a jolting announcement. The person responsible for the racist messages, the academy said, was, in fact, one of the cadet candidates who reported being targeted by them.

"The individual admitted responsibility and this was validated by the investigation," academy spokesman Lt. Col. Allen Herritage said in a statement to the Associated Press, adding: "Racism has no place at the academy, in any shape or form."

The cadet candidate accused of crafting the messages was not identified, but the Colorado Springs Gazette reported that the individual is no longer enrolled at the school. Sources also told the Gazette the cadet candidate "committed the act in a bizarre bid to get out of trouble he faced at the school for other misconduct," the newspaper reported.
It's great that the academy is still reinforcing the message that racism has no place at the academy because that's absolutely true. But it might have been helpful for them to note that this wasn't racism. I don't know how much credence we should give to the former student's explanation. It's being claimed that he was attempting to divert attention from other disciplinary action he was facing over performance issues. Perhaps that's the case in this one instance, but most of the time it isn't.
It seems obvious that most of these hoaxes, particularly on college campuses, are designed to perpetuate the image of rampant racism. If you can't find any actual racism to highlight I suppose you have to cook up some on your own.