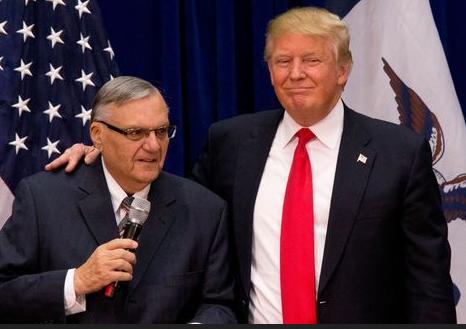 Arizona Sheriff, Joe Arpaio, was pardoned by President Trump on his conviction for criminal contempt after he defied a court order and refused to cease traffic stops of  vehicles suspected of carrying illegal immigrants.
Arpaio became controversial for constructing outdoor tent cities for prisoners, reviving chain gangs, serving bad food, and making the inmates wear prison stripe clothes and pink underwear to humiliate them. The intent of all that was to discourage crime and to stop illegal immigrants from entering his county. He says he was prosecuted by Obama holdovers because he conducted an investigation into Obama's birth certificate and declared it a fake.  Arpaio endorsed Trump before he was taken seriously as a candidate.
The "will he/won't he" speculation will run all day — right up until Trump takes the stage in Phoenix around 10 p.m. eastern tonight. So, it's worth asking: How did we get here with Joe Arpaio?
Arpaio first came to national prominence in the early 1990s when, as newly elected sheriff of Maricopa County, he pushed the construction of Tent City — an open-air jail he viewed as not only a solution to prison overcrowding but also a way to burnish his tough-on-crime persona.
"We're going to do it, and it's time to get tough around here," Arpaio said in 1993 when Tent City was unveiled,
according to the Arizona Republic
. "And to get tough, you have to have a place to put the bad guys."
Arpaio also made prisoners wear pink underwear and pink handcuffs as a way of shaming them (and to stop them from stealing each others' clothes). In the mid-1990s, he reinstated chain gangs — including for women and juveniles. He pushed for every mug shot to be posted online. He cut down prison meals to two a day — no lunch! — and banned the use of salt and pepper to save money.