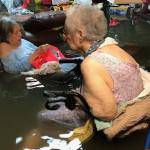 Houston Mayor Told People There Was No Need to Evacuate for Hurricane Harvey
Despite Texas Governor Abbott declaring a state of disaster from the effects of Hurricane Harvey last Wednesday, the mayor of Houston, Sylvester Turner, advised citizens to stay where they were.  Many areas were more than 20 feet underwater, and rescue operations were required, particularly for senior citizens. A Houston resident, Rebecca Reisig, posted a Facebook comment that the Houston City Council knew Hurricane Harvey was expected to do greater damage than was being reported to the public, and her report went viral. In response, Harris County Judge Ed Emmett advised worried citizens that the Facebook rumor was false and that people should get their news from official sources, a line that was parroted by Mayor Turner. Facebook removed Reisig's account. –GEG
A Houston-area woman set off a firestorm in the hours leading up to Hurricane Harvey's landfall when she wrote on social media that local officials and the mainstream media were misleading the public about the severity of the incoming storm.
Resident Rebecca Reisig said the Houston City Council knew Hurricane Harvey was expected to do far greater damage than was being reported to the public.
Hey guys, I'm not trying to start a panic, but as some of you know, I work for a law firm here downtown. One of the lawyers I work with has a friend on the Houston City Council. The news is not telling the whole truth. The storm is expected to be three times worse than what the news is saying because they don't want a panic on the freeways like Hurricane Rita. The City Council and Harris County Flood Control had an emergency meeting this morning. Evertything sound of Katy is predicted to be devastated. They're predicting 50 inches of rain, not 24 like the news is saying, and 100,000 homes destroyed. Theyre expecting all of Houston to be without power for three days. If you guys live in a flood zone, you need to get out of Houston or try to stay with someone further north of Houston. I hope they're wrong, but that is the latest I've heard from what the news isn't telling you. Stay safe everyone.