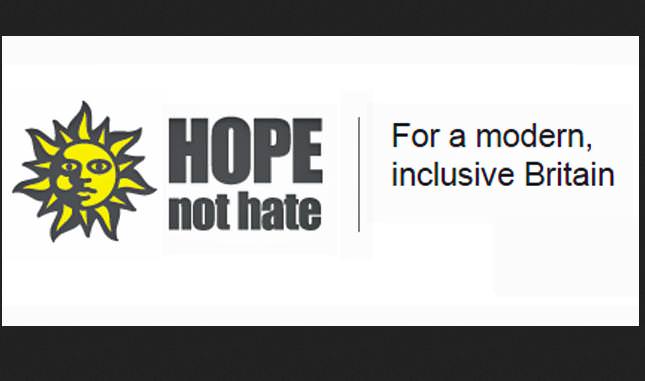 Hope not Hate (HnH) is registered as a charity in the UK but is just another support group for Communist causes. In the UK, it has targeted public figures such as Nigel Farage of the UK Independent Party and right-wing journalist, Katie Hopkins.  They also run campaigns to demonize anyone who opposes the collectivist agenda. HnH is partly funded by the UK government. –GEG
The UK far-left group Hope not Hate (HnH) claim that they are expanding into the United States and have promised to bring "undercover operatives" to the country.
Hope not Hate released the information on Twitter Tuesday afternoon urging followers to follow their new U.S. branch and donate to the project located at a new website address. The U.S. branch of the group tweeted out a picture from the Charlottesville torch march with the caption: "You bring your tiki torches. We'll bring our undercover operatives."
Hope not Hate are a registered charity in the UK and are synonymous with far-left causes and have traditionally targeted far-right figures and groups like the British National Party.
Yet more recently the group has set its sights on groups like political party UKIP and has pursued campaigns against former leader Nigel Farage and right-wing journalist Katie Hopkins. Former UKIP parliamentary candidate Peter Harris claimed that HnH had acted as "attack dogs" for Labour MP Jon Cruddas during this year's general election.
Muslim reformer Dr. Zuhdi Jasser has called the group "Orwellian" saying: "They're basically doing the same thing as [Osama] Bin Laden and [Abu Bakr] Baghdadi [the leader] of ISIS… and the Saudi government."
Late last year, HnH was slammed after a study by the Economist magazine showed the group inflating the number of "hate speech" incidents on Twitter following the murder of MP Jo Cox by as much as 3,000 per cent.
The U.S. Hope not Hate website is sparse, other than asking for donations. The registered address for the group is in the UK, meaning that it is likely not registered in the U.S. as a charity.
The site does not go into detail on whether or not its "undercover operatives" will be from the U.S. or flown in from the UK.
HnH is also partly funded by the UK government and one of its directors is sitting Labour MP Ruth Smeeth. The announcement of the new operatives may raise questions over the creation of a foreign-funded spy network, operating in the United States.