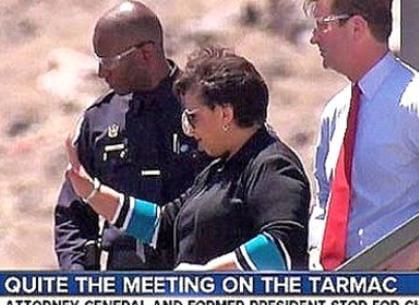 Tom Fitton, head of Judicial Watch, reveals that Attorney General Jeff Sessions is acting exactly as if Hillary Clinton had won the election and appointed him to office. He has blocked investigation of the abundant evidence that Hillary emailed classified information to her cronies and sold political influence as Secretary of State, both of which are serious crimes. Fitton contrasts that with the current frenzy to investigate Trump on anything and everything to put him and his family in jail, even though there is little or no evidence. [We ask again why President Trump would select people for high office who are known loyalists to the Clintons, and who was the influential person who convinced him to do so? Did Trump make a campaign promise with someone like Henry Kissinger?] –GEG
As TGP previously reported, the Justice Department released a redacted version of the conversation between then-AG Loretta Lynch and Bill Clinton from last summer's tarmac meeting at Phoenix Intl' Airport.
Perhaps their conversation about grandchildren and golf has them worried which is why they scrambled to withhold the information from the public citing 'deliberative process' privilege. But only it wasn't former AG Loretta Lynch or former FBI Director James Comey or anyone else in Barack Obama's criminal circle who redacted these documents—it was Jeff Sessions' DOJ!
President of Judicial Watch, Tom Fitton gave his weekly update and discussed the documents he received on the talking points drafted pertaining to the Lynch-Clinton meeting on the tarmac at the Phoenix Airport.
Fitton had this to say about the documents, "The talking points are completely blacked out–you heard that right. They're blacked out. Again, they weren't blacked out by Attorney General Lynch, they weren't blacked out by James Comey, they weren't blacked out by Barack Obama. They were blacked out by the Justice Department run by Attorney General Sessions, an appointee of President Trump. Isn't that outrageous?"
Fitton goes on to explain the loophole the government used to redact these documents.