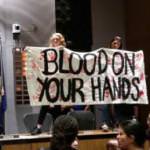 Charlottesville: Protesters Stormed Town Hall, Mayor Fled the Scene
Protesters broke up the Charlottesville city council meeting chanting and shouting in anger over the fact that the Mayer and the Council had granted a demonstration permit to an Alt-Right group on August 12th. On that date, the clash between alt Right and Alt Left groups left 19 people injured, and one woman was killed.  Mayor Mike Signer shut down the meeting and left, while a group carrying a banner that read "Blood on your hands," stood on Council desks. –GEG
A Charlottesville City Council meeting spiraled into chaos as angry residents unloaded on city officials in the wake of last week's deadly rally.
The Council met for the first time since the "Unite the Right" rally which turned deadly as white supremacists and Antifa groups clashed in a small Virginia park, leading to the death of Heather Heyer who was killed when a car was driven into a crowd of counter-protesters.
Monday's meeting began normally but erupted when the rally was mentioned, as residents shouted down the mayor and City Council members and complained about the city's response to the event, the New York Times reported.
Police forcibly removed three people, who were issued summonses and charged with disorderly conduct. But that only angered the crowd of about 100 who launched into chants of "Shame" and "Shut it down!"