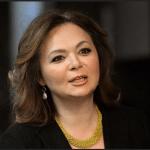 Donald Trump, Jr. Met with a Russian Lawyer Last Summer, Trump's Detractors Cry Collusion
Donald Trump, Jr. met with a Russian attorney last summer, who said she had information that would help his father's campaign against Hillary. The meeting lasted only 20 minutes, because the lawyer had nothing specific. The conversation ended with a discussion of American adoptions of Russian babies. In retrospect, it seems possible that the reason for offering the non-existent information to Trump, Jr. was to ensnare him into a meeting that later could be held up as evidence of 'Russian collusion'. According to a Trump legal-team spokesman, the Russian lawyer, Natalia Veselnitskaya, is tied to Fusion GPS, the group that hired former British Intelligence officer, Christopher Steele, to compile the salacious dis-information about President Trump's activities in Moscow. –GEG
Donald Trump Jr. released emails suggesting 'incriminating information" about his father's Democratic campaign rival, Hillary Clinton. USA TODAY
Each week, USA TODAY's OnPolitics blog takes a look at how media from the left and the right reacted to a political news story, giving liberals and conservatives a peek into the other's media bubble.
This week, the left-leaning news media were both outraged and elated by the revelation of Donald Trump Jr.'s emails that outlined his effort to obtain dirt on Hillary Clinton from Russian sources. Liberal commentators were thrilled to have what they see as evidence of collusion, but infuriated by what some called an act of treason.
Conservative media, on the other hand, tried to throw water on the now growing flames of the long-smoking scandal. Some said President Trump's foreign policy belies any theory that he is in bed with the Russians. Others argued no laws were broken, or that the Russian lawyer who met with Trump Jr. was a Democratic plant.
Not all conservatives leaped to the Trump administration's defense, however. For example, The Weekly Standard said in an editorial that Trump has "lost all credibility on the question of Russia."
Last week: Conservatives say Trump handshake snub is fake news
From the right: Russian lawyer was working for the Dems
Natalia Veselnitskaya, the Russian lawyer Trump Jr. met in search of "incriminating" information about Clinton, "is linked" to a Washington, D.C., firm that was hired by "Democratic operatives" to do opposition research on Trump, a post on Sean Hannity's blog said.
Veselnitskaya, who "failed to produce any such information," is tied to Fusion GPS, the group that "hired former British Intelligence officer Christopher Steele to compile the infamous 'Trump dossier' which included salacious and largely discredited information about President Trump," the post read, citing Mark Corallo, a Trump legal team spokesman.
Trump Jr. appeared on Hannity's Fox News show Tuesday to "set the record straight."
Donald Trump Jr. defended his meeting with a Kremlin-connected lawyer on Fox News Channel's Hannity. The younger Trump said he was looking for information on Hillary Clinton, and that no useful information was offered. (July 12) AP
From the left: 'The Trump-Russia conspiracy is now very simple'
The initial coverage of Trump's emails missed an important point, wrote David Corn for Mother Jones. The messages reveal a very clear and simple conspiracy, he said.
The emails make it easy to connect the dots from Trump to Russian billionaire and Putin ally, Aras Agalarov, Corn said. If the Russians wanted to help Trump defeat Clinton, Agalarov was "the natural go-between."
The apparent plot — yes, it was a secret plot — involved a small number of people: three of Donald Trump's closest advisers, a Trump business partner (and that man's son), a Russian official close to Vladimir Putin, and two emissaries. Actually, none of this is surprising. Or complicated. You do not need Agent Mulder to get to the bottom of this.
"This is not Alex Jones stuff," Corn wrote. "This was straightforward conniving, It was a conspiracy, pure and simple. The obvious question now is: Are there any others to uncover?"
From the right: 'Trump Jr. has broken no law'
Those with law degrees who said Trump Jr.'s emails may constitute evidence of treason "appear to have slept through their class on constitutional law," Fox News anchor and former defense attorney Greg Jarrett wrote. And there is no "statute that makes colluding with a foreign government in a political campaign a crime."
As much as President Trump's opponents may wish it to be, it is not a crime to meet with a Russian. Nor is it a crime to meet with a Russian lawyer or government official. Even gathering information from a foreign source is permissible. Unwise and ill-advised, yes. Illegal, no.

Until such time as Congress decides to pass a bill — and the president signs it into law — criminalizing "collusion" with a foreign government in an American political campaign … no law has been broken here.