Suspected Berkeley Antifa Bike-Lock Attacker Eric Clanton Arrested for Assault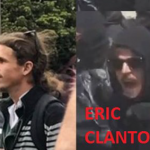 Eric Clanton, 28, a former Diablo Valley and California State University philosophy professor, suspected in the Antifa bike lock attacks, was arrested for assault
Wednesday
afternoon in Oakland. He is being held on $200,000 bail after being booked into Berkeley City Jail. Police have not said whether the arrest is connected to online investigative efforts that identified Clanton as the attacker, but examination of the photographic evidence makes it difficult to come to any other conclusion.  -GEG
Eric Clanton, 28, a former Diablo Valley and California State University philosophy professor suspected in the Antifa bike lock attacks was arrested for assault Wednesday afternoon in Oakland.
Clanton is being held on $200,000 bail after being booked into Berkeley City Jail – though police have not said whether the arrest is connected to online investigative efforts which identified Clanton as a person of interest in bike lock attacks
 "[Clanton] was arrested on suspicion of use of a firearm during a felony with an enhancement clause and assault with a non-firearm deadly weapon. –

East Bay Times

"
4chan unmasking
Clanton is the suspected Antifa member going around with a bike lock assaulting Trump supporters. The weaponized autists over at 4chan 'unmasked' him based on photographic and video evidence along with publicly available information.
(Attack at 18 sec)