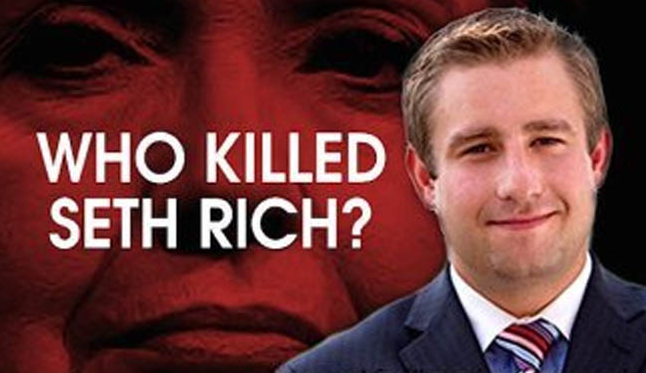 The mainstream media is labeling news reports about the murder of Seth Rich, the man who is believed to have leaked the DNC emails to WikiLeaks, as "fake news," and they are trying to bury the story.
Sean Hannity said Media Matters is trying to silence him from reporting on the story by trying to get him fired and by pressuring advertisers to pull their ads.  Media Matters was founded by David Brock and funded by George Soros.  Sean Hannity has been pulled off the air.
Companies including Cars.com, Peloton, and Leesa Sleep have all given in to pressure to cease advertising on the show over Hannity's pursuit of claims made by Fox News that murdered DNC employee Seth Rich had contact with Wikileaks before his death, which have now been retracted.
Breitbart reported that Hannity, in a series of tweets, accused figures including George Soros, David Brock of Media Matters, and failed presidential candidate Hillary Clinton of "liberal fascism," after his advertisers were reportedly "inundated with emails" from left-wing groups asking them to stop advertising on the show.
Fox News reported that Sean Hannity is taking his annual Memorial Day vacation and will not appear on his show on Thursday and Friday.  Hannity tweeted this message in response:
"Uh oh My ANNUAL Memorial Day long weekend starts NOW. Destroy Trump/Conservative media breathless coverage starts! Did Hannity do last show?"
Other developments in the Seth Rich murder case, according to the source We The Vigilant, include:
 Brad Bauman, the DNC crisis consultant representing the Rich family, is linked (through his family) to the Bauman Foundation that is involved in politics, and lists George Soros partner, David Brock, of Media Matters on its board of directors.  The Bauman Foundation has additional links with George Soros.
  Brad Bauman is employed by a left-wing media group owned by Brock.
  Rod Wheeler, the private detective who was hired on behalf of Seth Rich's family who asked him to terminate his investigation, claims that Donna Brazile, a DNC operative who had been caught lying in a separate scandal, contacted the police after Wheeler questioned them about Rich's murder.  Wheeler further claimed that the FBI and police were involved in a cover up of the case.
If it can be shown that Seth Rich leaked the DNC emails to WikiLeaks, the Democrats' claim that the Russian hacked them will fall apart.
The media is also pushing the Russian story and will be discredited if Rich is revealed as the WikiLeaks source.
If Republicans refuse to investigate the Seth Rich murder, case, it will show complicity.
The alternative media and individuals need to make this case go viral.