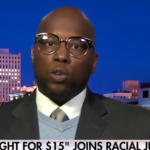 Head of Organization Demanding $15 Minimum Wage Threatens to Shut Down Fast-Food Restaurants
The national organizer for the "Fight for $15" movement, Kendall Fells, is not an underpaid fast-food worker. He is a labor-union activist who, in 2016, was paid $146,000 by the left-wing Service Employees International Union.  When asked who paid for the buses used to transport demonstrators, Fells said they have a "coalition of more than 100 groups in every city". He added that, if fast-food restaurants cut hours or fire employees, his organization will bring 150 people and shut down their stores day after day after day. –GEG
The lead organizer for the "Fight for $15" movement isn't an underpaid fast food worker, but rather a well-paid labor union activist.
"No I'm not," Kendall Fells said when asked by researchers with conservative nonprofit America Rising Squared if he was paid to attend the "March on McDonald's" he organized this week in Chicago. As it turns out, though, Fells is paid for his activist activities — and he gets paid a lot.
Fells was paid more than $146,000 in 2016 by the left-wing Service Employees International Union (SEIU), according to documents SEIU filed with the Department of Labor. Fells is listed as SEIU's "deputy organizing director." He is currently "on loan" to the "Fight for $15" campaign from SEIU, Fox Business reported on Wednesday.
Fells was hesitant to answer questions about the funding for the event and seemed uncomfortable providing details about himself. When the camera captured a shot of Fells' face he put a hand up and said, "Please don't record me."
"The question you should be asking is like how much do these corporations make and how much do these people make and why are they out here protesting," Fells said, while holding a coffee from Starbucks, which does not pay its workers $15 an hour.
Fells originally described himself as a "supporter" of the protesters, who he said are mostly fast-food workers.
"My official job is to support these people," Fells said, gesturing towards the protesters, many of whom were bussed into the event.
When asked who paid for the buses, Fells said that they have a "coalition" of "100+ groups in every city."
"They're gonna do anything to help these workers get up and get out here," he said. "Do you have a better idea how to get this many people out here?"