US Arms Dealers Will Supply $100-Billion in Arms to Saudi Arabia, and Israel Also Will Receive More US Military 'Aid'
President Trump is close to approving over $100-billion in arms sales to Saudi Arabia and to aid Israel so it they can maintain military dominance in the Middle East.  US weapons contractors will supply all sides of the arms race, and that market will grow to more than $300-billion over the next decade. –GEG
Earlier this month, US officials said the US was seeking to reach "billions" of dollars in arms sales to Saudi Arabia as part of Trump's visit to Riyadh. With a week left before the visit, officials now say the White House is very close to the deal, and that it will amount to over $100 billion in sales.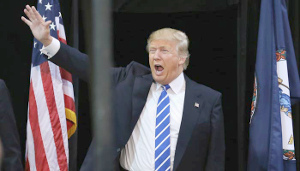 Details are still emerging, but the plan is for this to set out a series of growing deals over the next decade that will involve more than $300 billion going to arms dealers, not just to arm the Saudis, but in extra aid to Israel to ensure their "qualitative military edge" over the Saudis.
White House officials said the move would be good for the economy, and insisted that building Saudi Arabia's already substantial military was "essential" because of regional problems. Saudi Arabia, of course, spends much of its military budget invading Yemen and trying to reinstall former President Hadi in power.