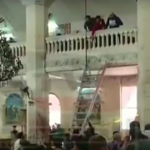 Two Bomb Explosions In Egypt Kill 45 Coptic Christians On Palm Sunday
Egypt: ISIS claimed responsibility for two bomb blasts that killed at least 45 Coptic Christians at St. George's Coptic Church in the city of Tanta and at St. Mark's Coptic Orthodox Cathedral in Alexandria.  The blasts may have been timed to coincide with a visit to Egypt by Pope Francis, scheduled for the end of this month.  Two bombs were defused at a Sufi shrine in Tanta. ISIS considers Sufism, a mystical form of Islam, to be heresy. –GEG
ISIL says it was behind two bomb blasts that killed dozens of Coptic Christians in Egypt on Sunday, as they marked Palm Sunday ahead of Easter.
In Tanta and in Alexandria, church services on one of the holiest days of the Christian calendar ended in carnage.
At least 27 people died and nearly 80 were injured in the first explosion in the northern Nile Delta city of Tanta.
Officials say the blast hit the front rows of St George's Coptic Church. It remains unclear whether a bomb was hidden in the building or whether a suicide bomber was responsible.
Media reports from Egypt say two explosive devices were defused at a mosque in Tanta with a Sufi shrine on Sunday. ISIL views followers of Sufism, a mystical form of Islam, as heretics.
Following the carnage at St. George's in the city, the local security chief is said to have been relieved of his duties.
Hours after the Tanta explosion, came another blast in front of a Christian church in Alexandria.