Turkish President Erdogan Wins Sweeping New Powers In Contested Referendum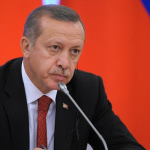 Turkey: A national referendum won by a slim majority, 51% to 49%, gives dictatorial power to President Erdogan by replacing the parliamentary system with an executive presidency.  The term limits for Erdogan will be extended, he will be able to directly appoint top public officials, the president will decide whether to impose a state of emergency, and he will have the power to override the judiciary.  Erdogan has accused judges of being influenced by Fethullah Gulen, the Pennsylvania-based preacher he blames for the attempted coup in July.  Erdogan's opposition says the election was fraudulent, because ballots were accepted that were not stamped as "valid". –GEG
They are rejoicing into the night here outside the headquarters of the governing AK party (AKP), confident in the victory claimed by President Erdogan.
He and his government say more than 51% of voters have backed the constitutional reform but the opposition has cried foul, claiming massive irregularities over invalid votes and vowing to challenge the result at the supreme electoral board.
Mr Erdogan said the clear victory needed to be respected. In a typically rabble-rousing speech, he proposed another referendum on reinstating the death penalty, which would end Turkey's EU negotiations.
But this has not been the resounding win he wanted and doubts will linger over its legitimacy. It was hoped this vote might bring Turkey stability but that still seems some way off.
Death penalty next?
"Today… Turkey has taken a historic decision," Mr Erdogan told a briefing at his official Istanbul residence, the Huber Palace. "With the people, we have realised the most important reform in our history."
He called on everyone to respect the outcome of the vote.
The president also said the country could hold a referendum on bringing back the death penalty.
He usually gives triumphant balcony speeches, the BBC's Mark Lowen notes, but this was a muted indoors address.
Deputy Prime Minister Veysi Kaynak admitted the "Yes" vote had been lower than expected.
What's in the new constitution?
The draft states that the next presidential and parliamentary elections will be held on 3 November 2019.
The president will have a five-year tenure, for a maximum of two terms.
The president will be able to directly appoint top public officials, including ministers
He will also be able to assign one or several vice-presidents
The job of prime minister, currently held by Binali Yildirim, will be scrapped
The president will have power to intervene in the judiciary, which Mr Erdogan has accused of being influenced by Fethullah Gulen, the Pennsylvania-based preacher he blames for the failed coup in July
The president will decide whether or not impose a state of emergency
'French-style system'
Mr Erdogan says the changes are needed to address Turkey's security challenges nine months after an attempted coup, and to avoid the fragile coalition governments of the past.
The new system, he argues, will resemble those in France and the US and will bring calm in a time of turmoil marked by a Kurdish insurgency, Islamist militancy and conflict in neighbouring Syria, which has led to a huge refugee influx.
Critics of the changes fear the move will make the president's position too powerful, arguing that it amounts to one-man rule, without the checks and balances of other presidential systems such as those in France and the US.