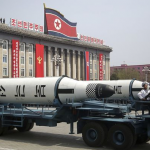 North Korea Fires Missile That Blows Up On Launch. World Awaits Trump Reaction
North Korea: Kim Jong Un fired another missile, despite Trump's warning that a nuclear test or missile launch would be grounds for a US military strike. The missile blew up on launch. It is unknown how Trump will respond, if at all. So far, he has declined comment. –GEG
The initial official reactions to the failed missile launch are beginning to hit the wires:
U.S. Pacific Command on North Korea missile launch
U.S. Pacific Command detected and tracked what we assess was a North Korean missile launch at 11:21 a.m. Hawaii time April 15. The launch of the ballistic missile occurred near Sinpo.
The missile blew up almost immediately. The type of missile is still being assessed.
U.S. Pacific Command is fully committed to working closely with our allies in the Republic of Korea and in Japan to maintain security.
Additionally, Secretary of Defense Mattis says President Trump is aware of the situation and has "no further comment" on failed North Korean missile test.
The big question is whether Trump will retaliate while VP Pence is in South Korea.
*  *  *
As we detailed earlier, after Saturday came and went without any provocation out of North Korea on its national holiday, many asked if Kim Jong-Un had finally learned his lesson.Well, according to South Korean news agency, not only did Kim not learn any lesson – or heed Trump's warning that a nuclear test or missile launch would be grounds for a US military strike – but Kim was not even successful in properly defying the US as according to the Joint Chiefs of the South Korean army,  North Korea fired an unidentified missile but the test failed. The incident occurred a day after Kim Jong Un oversaw an elaborate military parade in the center of Pyongyang as the world watched for any provocations that risk sparking a conflict with the U.S.
According to a US official quoted by CBS, the launched missile was not an intercontinental ballistic missile, which North Korea has claimed to possess but has never successfully tested.  It's unclear why the missile failed.
The missile "blew up almost immediately" on its test launch on Sunday, the U.S. Pacific Command said, hours before U.S. Vice President Mike Pence was due in the South for talks on the North's increasingly defiant arms program.
As Yonhap further reports, North Korea's attempted missile launch on Sunday ended in failure, South Korea's Joint Chiefs of Staff (JCS) said.
"The North attempted to launch an unidentified missile from near the Sinpo region this morning but it is suspected to have failed," the South's Office of the Joint Chiefs of Staff said in a statement
The missile launch attempt came amid rising tensions with the United States that is sending an aircraft-carrier strike group to waters off the Korean Peninsula to deter potential North Korean provocations such as a nuclear test.
As VoA reports, there is still no information on the type of missile the DPRK tried to launch from Sinpo, where North Korea has a submarine base. What we do know, however, is that the time of the missile launch was at 06:20 am Korean time, and as Reuters also adds, the missile launched earlier this month flew about 60 km (40 miles) but what U.S. officials said appeared to be a liquid-fueled, extended-range Scud missile only traveled a fraction of its range before spinning out of control.
"It appears today's launch was already scheduled for re-launching after the earlier test-firing" Kim Dong-yub, a military expert at Kyungnam University's Institute of Far Eastern Studies in Seoul.
"This launch can possibly be a test for a new type of missile or an upgrade," Kim added. The North has said it has developed and would launch a missile that can strike the mainland United States but officials and experts believe it is some time away from mastering all the necessary technology.
Tension had escalated sharply in the region amid concerns that the North may conduct a sixth nuclear test or a ballistic missile test launch around the April 15 anniversary it calls the "Day of the Sun."
That said, in light of the recent NYT report that the US has been able to sabotage and remotely control North Korean launches for years courtesy of cyberattacks, one does wonder if the US did not play at least a minor role in this attempted, but failed, launch.
Three years ago, President Barack Obama ordered Pentagon officials to step up their cyber and electronic strikes against North Korea's missile program in hopes of sabotaging test launches in their opening seconds.
Soon a large number of the North's military rockets began to explode, veer off course, disintegrate in midair and plunge into the sea. Advocates of such efforts say they believe that targeted attacks have given American antimissile defenses a new edge and delayed by several years the day when North Korea will be able to threaten American cities with nuclear weapons launched atop intercontinental ballistic missiles.
Sabotage or not, at this moment Vice President Mike Pence is en route to South Korea on Saturday night for meetings with officials amid increased tensions in the region over Pyongyang's nuclear program and missile tests.