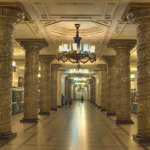 Russia: Homemade Bomb Explodes In Subway; Kills 14, Injures 50. A Man Born In Kyrgyzstan Is The Key Suspect.
St. Petersburg, Russia: A homemade bomb killed at least 11 people on a subway train and left more than 50 injured.  A second, larger explosive device disguised as a fire extinguisher was found at another subway station.  A suspect who was filmed at the scene turned himself in to police, claiming he is innocent.  A second man, also captured on CCTV, is suspected of being a suicide bomber with links to radical Islam. -GEG
Carriage of carnage: Pictures emerge from inside train where a nail bomb killed 14 in St Petersburg metro attack as suspected Islamist bomber is revealed to be a 22-year-old from Kyrgyzstan
Russian Akbarzhon Jalilov, 22, born in Kyrgyzstan, named by security services as suspected nail bomber
His home country has seen up to 500 join ISIS and the Boston Marathon bombers were also born there
The horrific blast occurred between Sennaya Ploshchad and Sadovaya train station in St Petersburg, Russia
Ambulances raced to the scene of the carnage caused by a nail bomb which was detonated on the network 
At least 14 people have been killed in yesterday's bomb blast and 50, including several children, were injured
Nobody has claimed responsibility, but previous attacks on Russia have been blamed on ISIS and Chechens 
Bearded man first identified on CCTV as suspect hands himself in claiming innocence and faces lie detector
City transport bosses have closed four stations this morning after an anonymous warning of another attack
These are the first images of the carnage inside the St Petersburg metro train blown up by a bomber named today as a Russian citizen from former Soviet state Kyrgyzstan.
At least 14 people were murdered and 50 injured in the blast and horrifying pictures show bodies, blood and wreckage strewn across the carriage of the train blown up between Sennaya Ploshchad and Sadovaya metro stations in Russia's second city.
Russian citizen Akbarzhon Jalilov, 22, who was born in Kyrgyzstan, has been named by security services as the suspected attacked who also planted a second device hidden in a fire extinguisher that failed to explode.
It is unclear whether the attack was a suicide blast or whether the bomber got away.
This morning, the city's transport bosses closed four stations, including Sennaya Ploschad, and called in emergency services following an anonymous call warning of another attack.
CCTV images of the suspect in Monday's bombing have been released, showing him in a red Parka jacket, wearing glasses and a dark green beanie hat and carrying a rucksack on his back through the Metro.
Another CCTV image shows him walking along the street with both his fists clenched – potentially because he was clutching the trigger for his bomb. Police believe he has close links to radical Islamists.
Jalilov's home country of Kyrgyzstan, which borders Kazakhstan and China in central Asia, is predominately Muslim and has seen up to 500 citizens travel to Syria to join ISIS. Boston Marathon bombers Dzhokhar and Tamerlan Tsarnaev were also born there. It was the last of the Soviet republics to declare independence in 1991.
The death toll from the atrocity was raised to 14 this morning. Nobody has claimed responsibility for the explosion, but previous attacks on Russia have been blamed on ISIS and Chechens.
Despite initially issuing search warrants for two suspected terrorists, authorities believe the suspected bomber was behind the attack and also have intelligence to suggest he planted a second explosive device – disguised as a fire extinguisher – which was found and defused at a nearby station.
Kyrgyzstan, where Jalilov is originally from, is a predominantly Muslim Central Asian nation of six million, is Russia's close political ally and hosts a Russian military airbase.
Rakhat Sulaymanov, the spokesman for the country's secret service, said: 'It was established, that the suspect in this act of terror was born in our republic.'
He named him as Akbarjon Djalilov, who was born in 1995 and has 'probably 'acquired Russian nationality,' he said.
The Kazakhstan authorities also reported they are aiding Russian law enforcement.